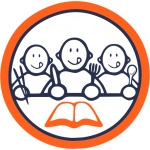 Campus Bible Study Leaders
As we start term 3 after a bit of a break, we have the awesome privilege of sharing the news that Jesus still lives with everyone on campus! Let's pray that God will use this season of heightened and focused evangelism to bring people to know him as Lord, and encourage Christians in the way they live and witness to their friends.
And as we start the term, we also have a great privilege and responsibility as Bible Study leaders to care for and guide those in our groups, wherever they might be at. It's both exciting and challenging. So what a reassurance it is to know that the God who is in control of everything has given us His Word to equip us for life and godliness!
Thank you for partnering with us to evangelise, teach, train and send each other as God's servants into all the world!
Bible Studies are an excellent context for teaching, training, pastoral care, community, evangelism, modelling, support, outreach, and… you get the idea
They are a really valuable ministry and we are very thankful for your service in this area!
The general structure will be meeting for an hour each week of Term. In your hour, aim to spend roughly 30–40 mins understanding and applying God's word, 15 mins in prayer, and a bit of relational bump-time, culture setting, announcements, and buffer time around the edges. See what works for your group.
Alongside this, we would love you to model and encourage engaging with The Bible Talks. You might go together as a Bible Study or join with other groups from your faculty—ask the trainees in your faculty about the options. If some can't make it, encourage them to watch along on youtube.
Especially for first years and those new to growth groups, keep reaching out and connecting personally with those in your group. Keep an eye out for all your members! You don't have to do this alone! Do organise for others in your group to meet with or follow-up with other group members.
Let's keep being prayerful in our leadership, and if we can do anything to support you, just ask!
Mark Drama — week 1 Friday (Mandarin), Sunday (English); week 2 Tuesday & Thursday (English)
Heightened mission (Jesus still Lives!) — weeks 1–3
CBS Culture Survey – week 4
Evangelistic Bible Study – week 5

Flex Week — week 6

LIFT Conference — Oct 21–23 (end of week 6)

Thanksgiving — week 10 Thursday

NTE Conference + Mission — Dec 3–11
This term we are working through the gospel of Mark, in both Bible Studies and The Bible Talks! As the two series run together, we hope this is helpful for you and your groups engaging and discussing God's word together in greater breadth and depth.
We have selected 10 passages from Mark that we think will be helpful to cover the main points of the book. Generally, the Bible passage suggested is a subsection of what was/will be looked at in the talk that week.
In week 1, there is a pre-written study for Mark 1:14–29 to help you getting started for the term.
We will meet for a combined leaders' training during the CORE Theology hours in week 1 (Tues 4pm and Thur 2pm). If at all possible, it is expected that you will be at one of these hours. Let a trainee in your faculty know if you can't make it and we will see if we can arrange another catch-up.
During the rest of term, you will receive ongoing support and training in your faculties.
We expect that you will have completed Strand 4 – Serving Growth Groups by the time you are a Campus Growth Group leader, but if not, do it in your first term of leading (hopefully you have chatted with your ministry trainee about this!). 
Jesus still Lives Mission
As launched at MYC, the mission for this year is Jesus Still Lives: Have you met him? We want to share the incredible story of the risen Jesus with our friends and with everyone on campus! And we have the joy of doing that together in so many different ways this year as we bring people to meet the Jesus who still lives and reigns. You can find out more on our mission page here. 
Evangelism is something that we can do with all of our lives as "ambassadors for Christ" (2 Corinthians 5:20). We are excited to keep growing our culture of evangelism in everything that we do, and Bible studies are key to driving and supporting this!
One foundational evangelistic goal is that, compelled by the love of Christ, we desire every student at Campus Bible Study to pray weekly for five unbelieving friends! Can you join us in this—both by praying and encouraging this culture on your groups?
In general, there are lots of ways that your bible study can promote and model evangelism. Some of these include
thinking evangelistically and inviting friends to Bible Study
praying for non-Christian family and friends (using language and a manner that expects you may have unbelievers in your group already – if we don't talk like this, then our groups won't feel comfortable inviting their friends
meeting up 1-1 with group members (in person or on the phone)
modelling, organising and encouraging evangelistic bible triplets
doing walk-up one week each term in bible study (if we can!)
running explicitly evangelistic bible studies
praying for missionaries in your group
… be creative!
Just if you aren't exactly sure who the staff are…
Engineering

Medicine
Law
Science
Practice these things, immerse yourself in them, so that all may see your progress. Keep a close watch on yourself and on the teaching. Persist in this, for by so doing you will save both yourself and your hearers.
English Standard Version
Hopefully you all went through this with a trainee before you committed to leading, but if not, these are our broad expectations of Bible study leaders.
"Practice these things, immerse yourself in them, so that all may see your progress. Keep a close watch on yourself and on the teaching. Persist in this, for by so doing you will save both yourself and your hearers." 1 Tim 4:15-16
Practice these things (What is your role as a leader?)
Pray for your group (pray for the individuals, for your time together, for growth and evangelism – if you desire your group to be or achieve something, pray for it)
Attend a leaders' team and work with your co-leader to faithfully prepare for the study
Work out how to care for your group (this doesn't mean doing everything yourself!) – aim for everyone in your group to be met up with 1-1 at least once in the Term (which may be you and your co-leader diving up the group for one-off catch-ups, or dividing up the group to meet in a number of 1-1s…or even Bible Triplets!)
Follow up group members, particularly unbelievers and those not coming regularly
Seek to train up other leaders in the group (start by giving them responsibilities in small ways, but it could also mean asking them to lead a study)
In a mixed group, the expectation is that the male will lead the studies, rather than the female. Yet they are both in a leadership position, and so are to prepare together and to look after the group together (1 Tim 2:8-15, 1 Cor 11).
Engage in personal evangelism – model, pray for and encourage evangelism in your group
Be an active and regular member of your local church
Keep a close watch on yourself (What areas of godliness have you been growing in? What are you struggling with?)
See 1 Tim 3:1-13; Titus 1:5-9 for expectations of leaders regarding godliness (self-controlled; humble; growing in maturity; not a recent convert; not addicted to alcohol; not greedy; sexual purity). In summary, people who are growing in maturity.
Show progress in godliness (1 Tim 4:15-16) – this is to be an encouragement and example to your group
Be above reproach in your godliness (is there anything that you don't want exposed?)
Don't date an unbeliever
And on the teaching– these are taken from AFES doctrinal statement (What do you disagree with? What don't you understand?)
The divine inspiration and infallibility of Holy Scripture as originally given and its supreme authority in all matters of faith and conduct.
The unity of the Father, the Son and the Holy Spirit in the Godhead.
The universal sinfulness and guilt of humanity since the fall, rendering men and women subject to God's wrath and condemnation.
The conception of Jesus Christ by the Holy Spirit and his birth by the virgin Mary.
Redemption from the guilt, penalty and power of sin only through the sacrificial death, as our representative and substitute, of Jesus Christ, the incarnate Son of God.
The bodily resurrection of Jesus Christ from the dead.
The necessity of the work of the Holy Spirit to make the death of Christ effective in the individual sinner, granting him or her repentance towards God, and faith in Jesus Christ.
The indwelling and work of the Holy Spirit in the believer.
The expectation of the personal return of the Lord Jesus Christ.
Persist in these things (How are you growing yourself and your group?)
Commitment to regular personal Bible reading and prayer
Commitment to personal evangelism
TBT
MYC
Core theology
Core training (if you haven't done Growth Groups, it'd be great to do that as you lead a Bible study)
Faculty leaders' team where possible, and combined leaders' training in Wk 1 of each Term (during the Core Theology hours)