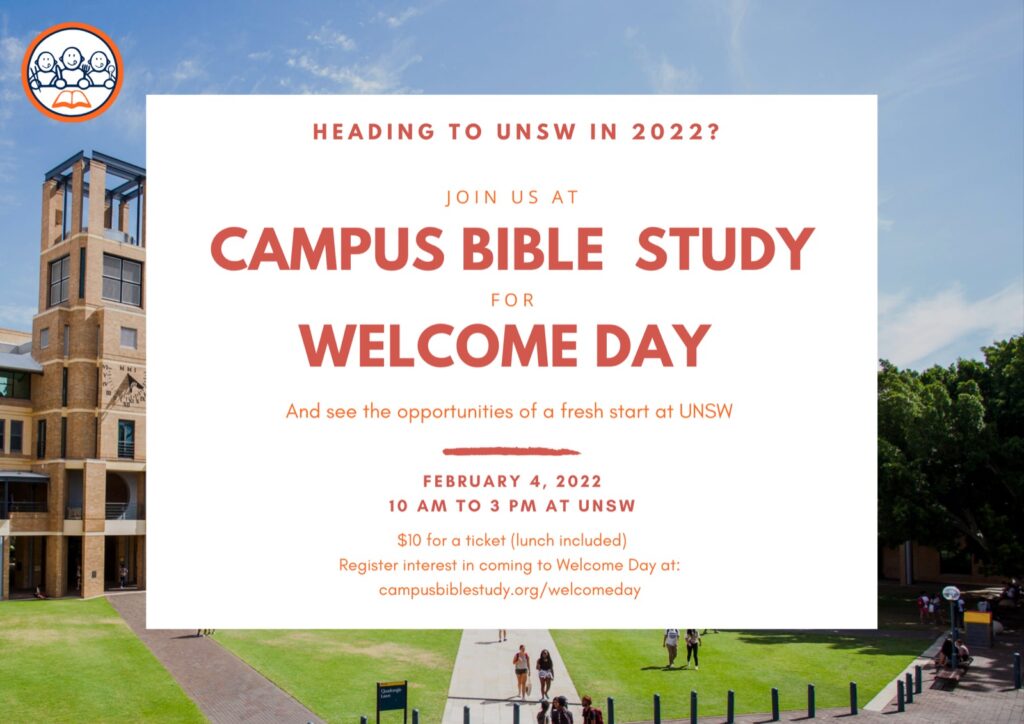 Let us welcome you to UNSW!
Welcome Day
4th February 2022, 10am-3pm
Whether you are excited, or feeling a little unsure about starting  uni, Campus Bible Study's Welcome Day is for you! 
Come and meet with others who are making a fresh start at UNSW, make some friends, hear from upper year students and get the inside word on how to start well!
Even if you're not too sure whether you'll be going to UNSW just yet, just let us know you're interested and we'll contact you later when offers come out
Why join a uni Christian group?
We are really excited that you are coming to UNSW in 2022! University is a fantastic time of life when we all make a fresh start!
Whether changing cities or bus routes, our friendships and commitments change – we find ourselves in a new and unknown environment. This brings excitement – new opportunities, new relationships, a chance to leave things behind and reinvent yourself, a coming of age. Though this can also bring uncertainty – change, isolation, and perhaps even pressure to adapt, when you'd rather keep being yourself.
Not coming to UNSW? Check out other AFES groups across Australia here.
Hey Year 12s! As you go through your HSC, we want to let you know that CBS is praying for you. We are praying that you might continue to depend on God through the challenges of this stressful period and would continue to serve Jesus in the busyness of exams. 
Hear from some students about the opportunities that are available for evangelism, teaching, training, and sending with Campus Bible Study.