Heading to uni in 2023? You might be feeling a whole range of emotions – excited, nervous, uncertain, or even ambivalent. You might not know what to expect, or you're coming in with a whole heap of expectations. Either way, no matter how you're feeling, uni is a new stage of life. It's a fresh start, which brings new experiences, new freedoms, and new questions about yourself and the world.
How will you make the most of your uni experience?
Why join a uni Christian group?
Uni is a unique time of your life, which brings new opportunities to learn about yourself and the world. Uni is a time when you ask big questions and make big decisions. Why do you believe what you believe? How does God's Word shape how you live? The relationships you make? The jobs that you work? How you use your new freedoms?
A Christian community at uni provides the space and support to keep growing in your understanding of God, yourself, and the world. Rather than doing it alone, you can work through these questions with people in the same life-stage, supported by upper year students and staff.
If you're not sure which uni you'll be going to, we'd love to connect you into the Christian group on your campus! Let us know you're interested here: campusbiblestudy.org/comingtouni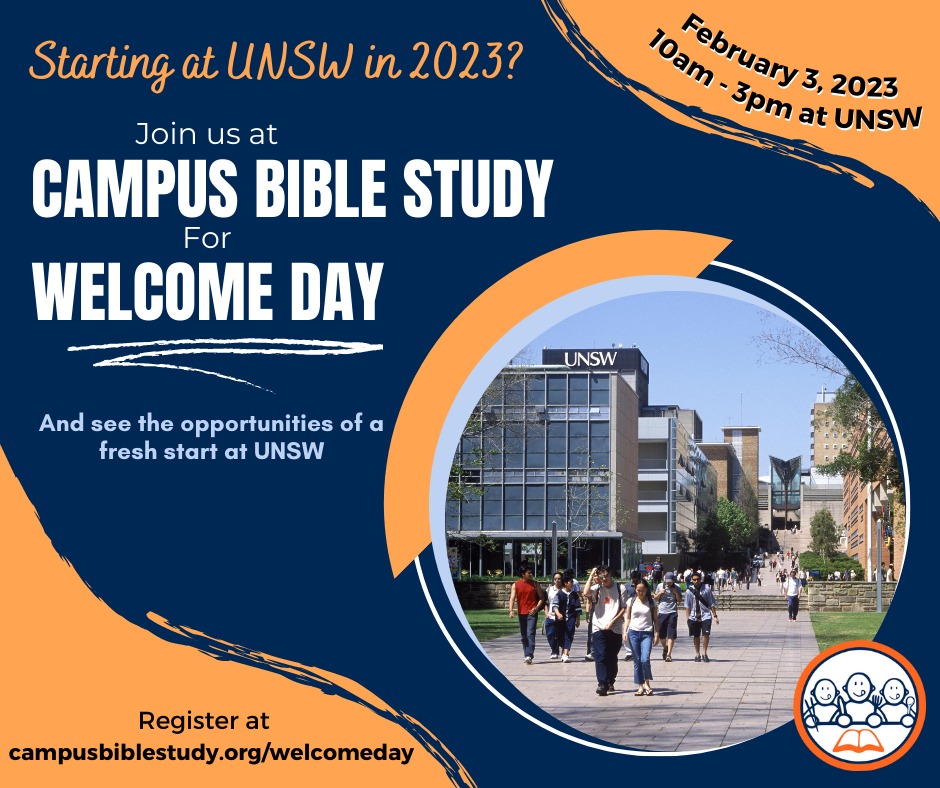 3rd February 2023, 10am-3pm
Coming to UNSW? Welcome Day 2023 is a great way to meet new friends, hear from the wisdom of upper year students, and see what the Bible has to say about you and your time at uni.
What is Campus Bible Study?
Campus Bible Study is the university Christian group based at UNSW. We meet on campus to read the Bible together, seeking to evangelise, teach, train and send each other. Whether you have grown up in church or you're curious to find out more about who Jesus is, we would love for you to join us at CBS to learn from the Bible!
Check out this video to see what students have loved about their time with CBS!
Hear from some students about the opportunities that are available for evangelism, teaching, training, and sending with Campus Bible Study.